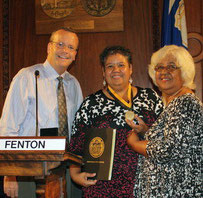 SPRINGFIELD — Anyone interested in writing or reading their own poetry will have a chance at two upcoming events at the Indian Orchard Library. The Vitamin P for Poetry series, run by award winning multilingual poet Maria Luisa Arroyo, will feature events on Nov. 15 and Dec. 13 from 12:30-2:30 p.m.

Arroyo has been running the series for several years and has put even more of an emphasis on encouraging the writing and reading of poetry since she became Springfield's first Hispanic poet laureate in September. Arroyo, who has published several collections of poetry in English, Spanish, German and Arabic, was honored with the title during a City Council meeting this fall.
Arroyo has a bachelor's degree from Colby College, a master's degree from Tufts University and is ABD (all but dissertation) at Harvard University in German Language and Literature. She has published two collections of poetry, "Touching and Naming the Roots of This Tree," and "Gathering Words: Recogiendo Palabras."