Rojas' Growing Up Gonzales Published!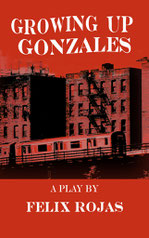 We are proud to announce that GROWING UP GONZALES by Felix Rojas is now available on Red Sugarcane Press and Amazon.
GROWING UP GONZALES is a one-man show, a comedy with drama in two acts.  It is the story of Cisco and Johnny Gonzales.  Cisco Gonzales has passed away, and Johnny, while cleaning out his deceased brother's apartment, finds Cisco's memoirs.   Johnny dives head first into Cisco's offbeat world and discovers a brother he never really knew.