The United Nation proclaims the International Decade for People of African Descent, commencing on January 1, 2015 and ending on December

31 2024

, with the theme "People of African descent: recognition, justice and development".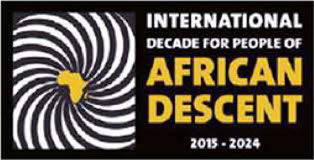 In proclaiming this Decade, the international community is recognizing that people of African descent represent a distinct group whose human rights must be promoted and protected. Around 200 million people identifying themselves as being of African descent live in the Americas. Many millions more live in other parts of the world, outside of the African continent.



"We must remember that people of African descent are among those most affected by racism. Too often, they face denial of basic rights such as access to quality health services and education."

— United Nations Secretary-General Ban Ki-moon