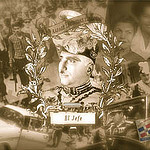 Tickets are selling fast for the premiere of a new play by Carmen Rivera, La caída de Rafael Trujillo. The play centers on events that led to implosion of Trujillo's ruthless dictatorship that governed the Dominican Republic for more than 30 years.
This is a limited engagement: October 16 to November 2, 2014 at Teatro Círculo's newly renovated theater at 64 East 4th Street (Between Bowery and 2nd Avenue) in New York City performed in Spanish with English subtitles. Evening performances take place on Thursday, Friday, and Saturday. Shows start at 8pm. Matinee performances on Sunday start at 3pm.

For tickets & info: http://www.teatrocirculo.org/pages/?qpath=trujillo
Phone: 866 811 4111
 

The production is directed by award-winning director Cándido Tirado and features a formidable  cast:
Lead role of Trujillo, José Cheo Oliveras
Iván Camilo (as Johnny Abbes),
Johary Ramos (as ensemble/various roles),
Adriana Sananes (as Doña María, wife of Gen. Trujillo),
Marco Antonio Rodriguez (as Don Paco Escribano),
Fermín Suárez (as Joaquin Balaguer),
Ed Trucco (as Diplomat),  
Eva Cristina Vásquez (as the lover of Gen. Trujillo) 
Set design by Jorge Dieppa and lighting design by María Cristina Fusté. Harry Nadal designed the historical costumes and Rubén Darío Cruz is the multimedia designer. For this production, noted Dominican scholar and historian José Novas has been the dramaturgical and cultural consultant; Bersaida Vega translated the play into Spanish.