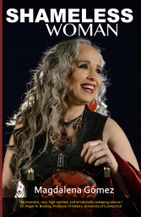 "Shameless Woman is an extravagant, inventive, rare, high-spirited, and emotionally sweeping volume that explores Gómez's life and the myriad pathways that led to her varied cultural productions and social activism. What we owe Magdalena Gómez is beyond evaluation."
- Dr. Roger N. Buckley, Professor of History,
University of Connecticut, Storrs
The long-awaited retrospective volume of poems, Shameless Woman by acclaimed poet, Magdalena Gómez, is now available on Amazon.  A book-signing event will take place in her native Bronx, in October at the legendary Pregones Theater, where she was honored as a National Endowment for the Arts Master Artist in 2010, and her work is currently in repertory.  The event will be part of a national book tour that will include a reading at the Los Angeles Theater Center with Pulitzer Prize winning journalist, Sonia Nazario, who will be reading from her bestseller, Enrique's Journey.
For details, contact: Magdalena Gómez www.magdalenagomez.com