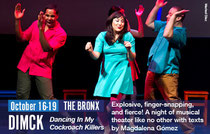 DANCING IN MY COCKROACH KILLERS presents Magdalena Gómez's full range of rhythmic realism, boundless hope, and laugh out loud humor.  Her characters face real life challenges with courage and flair, and are openly inspired by friends, family, and Latino/a icons. 

 
Performances: Thursday, October 16; Friday, October 17; Saturday, October 18 @ 8:00 PM
; Sunday, October 19 @ 3:00 PM. 

All performances at
 Pregones Theater in THE BRONX 
575 Walton Avenue, Bronx, NY 10451